A Saltburn bridleway has been named in memory of Sally Hill, founder of Saltburn Riding School.
The bridleway between Saltburn and Marske, known locally as the black ash path, has been officially named Sally's Way and two signs have been put up on Marske Road and at the railway crossing by way of dedication.
Mrs Hill sadly passed away in December 2012 aged 86, this was a great loss not only to her family but the riding community as she was well known for founding Saltburn Riding School, making it succeed through sheer determination and hard graft and teaching hundreds of people to ride over the years.
Her son Tim Hill said: "This is a tremendous tribute to my mother's work at Saltburn Riding School over the past 60 years. Every time I ride past that sign it makes me smile. She would have loved it."
The official naming came about after Emma Thompson of Saltburn and District Bridleways Group contacted Redcar and Cleveland Council.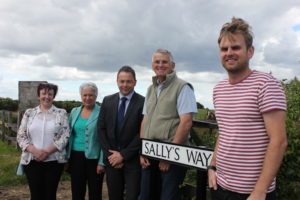 Emma said: "The busy bridleway is well used and loved by walkers and riders alike. For local riders this bridleway will be one of their first riding memories, setting out with a convoy of horses, with Mrs Hill leading and calling them on to keep up.
"I would like to thank Redcar and Cleveland Council and Councillors Karen King, Madge Moses and Margaret Wilson who made this dedication possible."
Sally's story starts at Hob Hill House in 1926 when she was born to a world where horses were everything. Even as a young child, she was carried in a basket on horseback rather than ride in a pram. Though born to life in the saddle she was destined to marry not to manage. But in 1942, in the midst of World War II, her father died and her brothers were called to fight. It fell to the 16-year-old Sally to take on the farm. She made the headlines of the Gazette as a landgirl, but this was no poster girl's l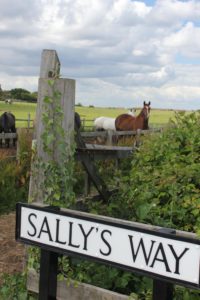 ife as she took on not only the work of the farm but the granite resistance of the old farmers' attitudes to women.
After the war, Sally married Ray Hill from Wheatlands Farm in 1949 and two farming dynasties came together. The young couple saw an opportunity to build a business based on what they knew about – horses – but just as their venture was beginning the corporate giant Woolworths decided they wanted the prime seaside spot where the stables were housed. But Sally was not one to despair – they started again at Marske Road where you will find Saltburn Riding School thriving today and the bridleway opposite was used to get the horses down to the beach.
At the time the young couple's dream of a riding school was seen as a "Mickey Mouse" idea by fellow farmers. The Hills saw it differently; they saw the world changing around them and wanted to share their love of horses.
Their instinct for a riding business paid off when in 1976 Princess Anne competed in the Montreal Olympics as a member of the British team and suddenly every girl wanted to ride and Saltburn Riding School was ready for the boom. Suddenly horse riding could be enjoyed by everyone.
Emma added: "Sally's whole world turned on being a horsewoman, she was born to it and lived every aspect of it – she bred, broke and sold, she competed and hunted.
"Sally was perhaps one of the last true horsewomen: respected, loved and remembered by so many and her legacy lives on through Saltburn Riding School and now also through the bridleway dedicated to her memory and achievements."